What It Means to Be Grateful
November 18, 2021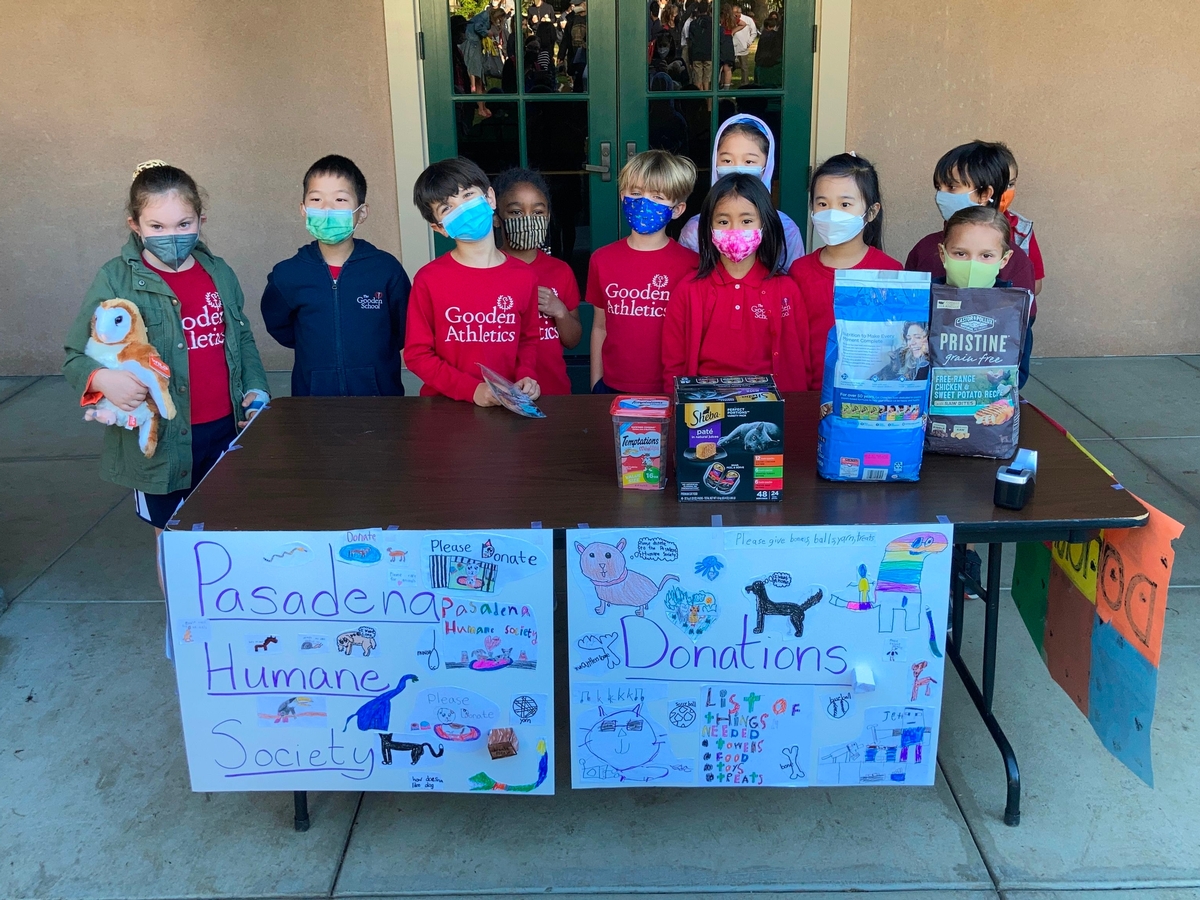 Ten years ago this spring, my son, Parker, graduated from The Gooden School. We were, of course, grateful for the education he received that prepared him for his next step, which was heading to St. Francis High School. We were actively involved with the Gooden Family Association, volunteered for events and in our son's classes, donated to the Annual Fund, provided auction items, and purchased tickets whenever it was a gala year. Dozens of students were also involved in raising money for the Make-A-Wish Foundation (where I was working at the time) at its annual Walk-For-Wishes. After Parker was handed his diploma, we honestly thought our days at The Gooden School, as part of our daily lives, were over. Little did we know.
Parker developed a deep connection to the community and the importance of giving very early in his kindergarten journey at Gooden. The Gooden School cultivates a sense of gratitude within its community by providing opportunities for students and parents alike to participate in ways that go beyond a single act of kindness, and that philosophy is echoed in how we appreciate others in our lives. Being involved in your community is a wonderful way to express gratitude.
As I'm sure parents in the upper grades can attest, and those in the Lower School are just discovering, being a Gooden School parent comes with some perks: meeting like-minded – and extremely fun - parents who discovered that this school – this Gooden School community - was not only the right place for our children, but for our family as well. We still get together socially with other parents we met at Gooden and consider them among our best friends. I promise as you move to the next phase, this will be the case for you. Those relationships are something for which I am incredibly grateful. I am also reminded of this special connection daily as "once a part of Gooden, always a part of Gooden" rings true as Matthew Brennan's mom, Cathy, works in our finance office, Grace Miller's mom, Leslie, prepares hot lunches for our students, and all the beautiful building renovations on our campus were done by Courtney Construction, aka Claire Courtney's parents, Tom and MaryRose. We were all part of the incoming kindergarten class in 2003. Whether we come here as a student or a family member, we live by the 3 R's - Respect for Self, Respect for Others, and Respect for the World.
Shortly after my son graduated, my wife, Jennifer, was invited to join the school's board of trustees. She planned to do one term, but stayed for two. When she finally rolled off, it was only a few weeks before I was contacted about my interest in coming to work at the school. Strangely, my wife and I had just had dinner in Sierra Madre the weekend before, and we talked about how much we missed that adorable downtown. I guess God was listening.
So instead of being done in 2012, we are now in 2021, still here after 18 years, and grateful to have the chance to meet all the wonderful children and families who care as much for this place as we did. Until I started here, the last image I had of Parker as a Gooden student was as an eighth-grader. But the memories of him as a Lower School student, especially as a kindergartner and first-grader, now come rushing back each time I see our current little ones on campus. Each day, I see Miss Davis, Mrs. Tortell, Mrs. Woolner, Mr. Williamson, and Mrs. Ewen, all teachers my son had. Their memories of Parker are as fond as the ones he has for them. Recently, I had the honor of reading "Dragons Love Tacos" to the kindergarten class, and it brought back fond imagery of volunteering each week in my son's class from kindergarten through fifth grade.
I am grateful for everything that The Gooden School has provided my family and excited about the future that awaits and the opportunities we each have to make a difference. At the recent Autumn Tea, it struck me that, while the faces and names have changed, the commitment to give back to The Gooden School by its community has not.
Steven Vanderpool, who helped organize two of the largest international sporting events held in the United States in recent years, and also worked with the Make-A-Wish Foundation and Special Olympics, joined the Gooden School staff in July 2021.
Steven helped launch Major League Soccer as the league's first director of public relations and then served as the lead press officer for the organizing committee of the 1999 FIFA Women's World Cup soccer tournament. He then spent eight years as operations director with STATS LLC, helping build the company's successful television sports research business that counts FOX Sports, NFL Network and CBS Sports among its clients.

More recently, Steven served as senior vice president for the Special Olympics World Games (LA2015), the single largest event held in Los Angeles since the 1984 Olympics. Before joining LA2015, Steven spent three years as chief communications officer with the second-largest chapter of Make-A-Wish and still serves as a wish-granting volunteer.
Steven holds a bachelor's degree in journalism from Idaho State and started his career working for the sports information offices of Boise State, Illinois and USC. Raised in San Pedro, Calif., he and his wife, Jennifer, live in Pasadena and have one son, Parker, who is a Gooden School graduate.