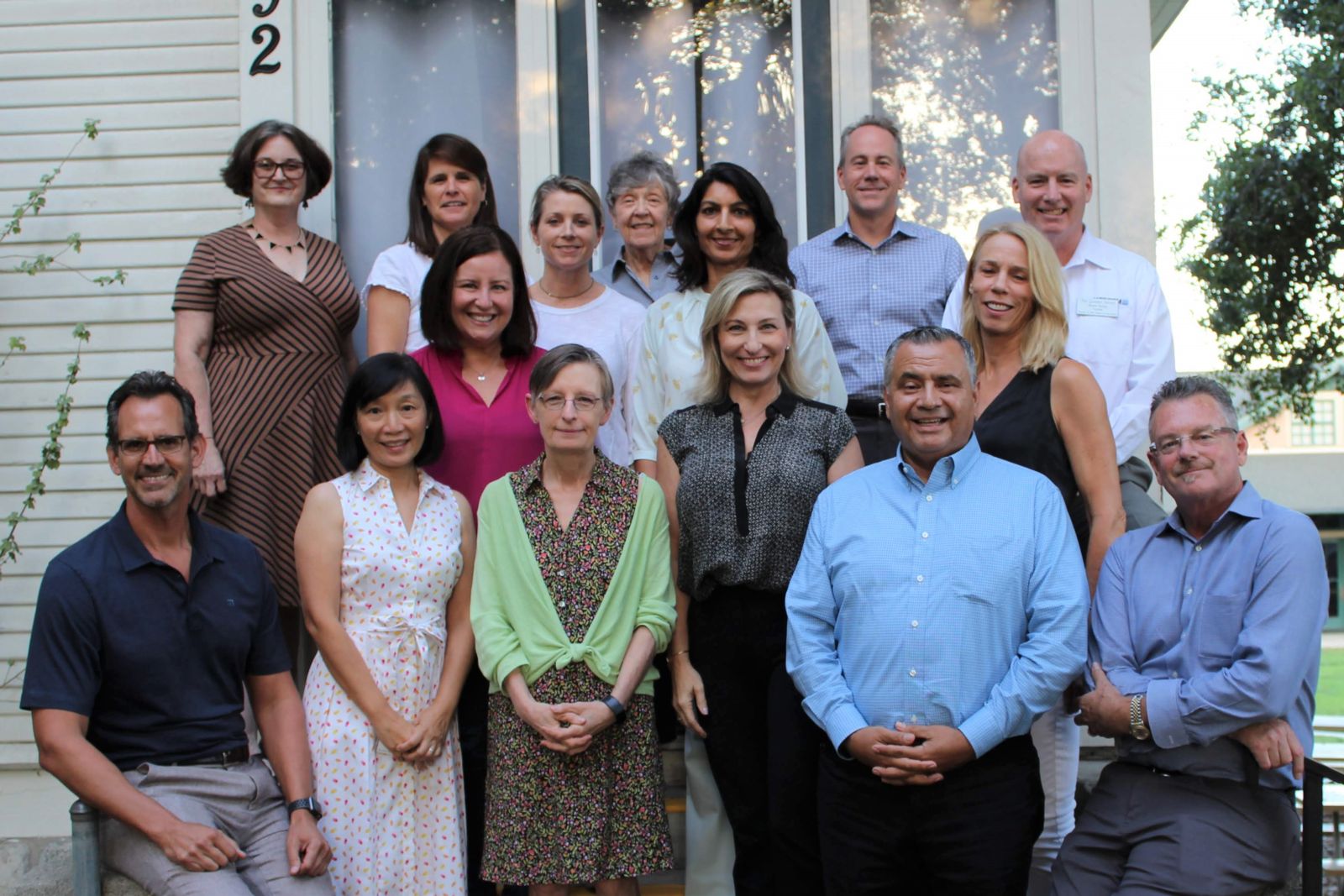 The Gooden School Board of Trustees
The Gooden School, like most independent schools, is governed by a board of trustees.
The board is composed of representatives of the entire Gooden community and includes current parents, alumni, parents of alumni, education professionals, Episcopal Church leaders, and community volunteers who bring specific skills and perspectives to the board.
The trustees, who have ultimate legal responsibility for the corporate entity which is The Gooden School, in practice, restrict their actions to five major areas: 1) the maintenance of the school's mission and periodic reviews of the mission with input from a wide range of representatives of the school community; 2) the establishment of institutional policy; 3) the provision of material and financial resources for the school; 4) the appointment and support of the head of school, whose responsibility it is to lead the school's day to day operations; and 5) act as the fiduciary and steward of the care and effectiveness with which policies are carried out.
The board of trustees at The Gooden School also adhere to the National Association of Independent School's Principles of Good Practice.
The current trustees are
Catherine Heflin, Chair joined the board in 2017 and is a prior Gooden board member and co-founder of the Gooden strings program. She works as a senior wealth strategist at UBS and brings more than 20 years of finance and nonprofit experience to the board. Cathy is also a member of the Guild of Cancer Support Community and a co-founder of the Flintridge Preparatory internship program. Her daughters Anna and Sophia graduated from Gooden (classes of 2007 and 2010, respectively.) Anna graduated from Westridge School, the University of California, Santa Barbara, and has a master's degree in viola performance from the San Francisco Conservatory of Music. Sophia attended Flintridge Preparatory School followed by Indiana University, Bloomington.
Yasmin Anwar joined the board in 2017. She is an attorney representing the intellectual property interests of global companies and brings nearly 20 years of professional experience to the board. She and her husband Robert have one daughter attending The Gooden School in the classes of 2022 and another daughter in Flintridge Prep's class of 2025. Yasmin served on the Gooden head of school search committee in 2016-2017 and coaches her daughter's AYSO soccer team.
Yue Auyoung joined the board in 2019. She was formerly a senior vice president of product management at Experian Consumer Direct. She has more than 20 years of management experience in both the public and private sectors as well as in both small start-up and large public companies. Yue served as a member of the Gooden Family Association in 2016-2017. Yue's daughter, Loran Murray, class of 2017, is a Gooden lifer who currently attends Flintridge Preparatory School.
Steve Boyle joined the board in 2019. He is the director of operations for Wescom Financial Services and has over 30 years of experience in banking and finance. His son, Declan, graduated from Gooden in 2017. Originally from New Jersey, Steve served on the board of a youth soccer program there and is a past chair of The Gooden School Annual Fund.
Kevin Brennan joined the board in 2018. He is head of enterprise solutions at Western Asset Management Company, and he brings 30 years of financial experience spanning strategic leadership, enterprise risk management, and operational process improvement to the board. He and his wife, Cathy have three children, Michael (class of 2014), Matthew (class of 2012), and Sarah (class of 2020). Matthew and a handful of other Gooden students helped start the first string ensemble at La Salle High School in 2012. Kevin has a degree in music is a strong supporter of the arts with a particular affinity for musical theater, classical music, and visual arts.
Dr. Joseph Dilley is a licensed clinical psychologist and the co-founder of Synergy Psychological, the private practice he operates with his wife, Dr. Carrie Dilley, who has served on the Gooden Family Assocation since 2019. Joe graduated from the University of Iowa with honors in psychology and a double minor in philosophy and religion. He earned his Ph.D. at Northwestern University. As the author of the book, The Game Is Playing Your Kid: How to Unplug and Reconnect in the Digital Age, he regularly offers workshops on digital citizenship to parents, teachers, and professionals at many institutions, including Gooden. Outside of their practice and community efforts, the Dilleys most enjoy long days of "active relaxation" with their daughter, Ashton, class of 2025, and their son, Jack, class of 2030.
Merrily Dunlap joined the board in 2018. In the fall of 2018, she took a leave of absence from the board in order to serve as associate interim head of school and is pleased to return to her board volunteer position as of June 2019 in a continuing path of service to Gooden. Merrily is a retired educator whose long career includes serving for fifteen years as head of school at Saint Mark's Episcopal School, Altadena. She also previously served as the interim head of The Gooden School from July 2015 through June 2017. For nine years, she was a member of the governing board of the National Association of Episcopal Schools and was also a member of the bishop's staff, where she served as the Executive Director of the Commission on Schools for the Episcopal Diocese of Los Angeles from 1991 to 1998. Merrily is also the former co-owner of Stepping Stones to Learning and Integrated Learning Solutions, both in San Marino.
Rick Garcia joined the board in 2017. He brings over 27 years of risk management and business leadership skills. Rick has worked in the private sector and in insurance consulting to various organizations. As an active member of the American Society of Safety Engineers, Rick has held various leadership positions, including president of the Los Angeles chapter. He and his wife Antonieta have two girls, one who graduated in 2016 and one in 2019. Both are attending Mayfield Senior School. Rick served on the Gooden head of school search committee in 2016-2017.
Lindsay George is a human resource leader at a global consulting company. Lindsay brings more than 20 years' experience in strategic leadership and human resources to the board. She and her husband, Doug, have two children that attend The Gooden School (class of 2024 and class of 2028). In addition to volunteering her time at The Gooden School as an admissions ambassador and Annual Fund volunteer, she plays soccer in a women's league and coaches her son's AYSO soccer team.
Jasen Grohs joined the board in 2018. Jasen is co-owner of Mur-Sol Builders, Inc., Mur-Sol Real Estate, LLC, and a managing member of two real estate investment LLCs. He brings to the board 29 years of construction development, real estate investing, and property management. Jasen, along with his wife, Jennifer, chaired The Gooden School Annual Fund for four years. He has two children who have attended The Gooden School: Abigail, class of 2016, who currently attends Mayfield Senior School and Landon, class of 2018, who attends Maranatha High School.
​​​​​​Jann Lacoss, Ph.D. joined the board in 2018. Jann serves as associate director of admissions at the California Institute of Technology and brings 30 years of experience in higher education to the team. Prior to Caltech, she was on the faculty of the University of Virginia. Jann is currently involved in the Children, Youth, and Family ministry at All Saints Church, Pasadena, where she also teaches middle school Sunday school. Her son Sam is a 2016 Gooden graduate and attends Polytechnic School.
David Lee is a partner at the law firm of Munger, Tolles & Olson LLP, specializing in private investment funds and transactions in the investment management industry. He brings over 20 years of legal and finance experience to the board as well as experience from service on the boards of other educational institutions. He and his wife Lisa have three children: an oldest son, Connor, currently attending Flintridge Preparatory School in the class of 2024, and twin son and daughter Odin and Erin, who attend The Gooden School (class of 2026).
John Moorehead brings over 25 years of marketing and advertising experience and is currently an executive at Capital Group. He and his wife, Sandra Flores, have a daughter, Amelia (class of 2025). Originally from Long Island, John chaired The Gooden School Annual Fund in the 2019-2020 school year and is a current member of Gooden's branding management committee.
Sonia Street joined the board in 2019. She brings over 12 years of corporate marketing experience to the board, including executive positions at Paramount Pictures and 20th Century Fox. She served as a president of the Gooden Family Association (GFA) and was on the GFA executive committee for four years. Her children, Ethan and Riley, class of 2010 and 2013 respectively, both attended Gooden. Ethan graduated from Flintridge Preparatory School and Boston College. Riley graduated from The Los Angeles County High School for the Arts and is currently enrolled in the cinematic arts program at the University of Southern California.
Maria Tuason is an attorney and partner at Hurrell Cantrall LLC and brings over 10 years of legal experience to the board, specializing in employment law and general litigation. Maria has trained Gooden employees to educate them in the areas of harassment and bullying. She and her husband have two children.
Sydney Walker joined the Board in 2015. She brings more than 12 years of professional marketing, advertising, and project management experience to the board. She has had two boys at Gooden (class of 2016 and class of 2018). Sydney actively volunteers in various capacities, including Tribe Lacrosse, where she serves as treasurer, and at Gooden, where she has served as a Gooden Family Association executive committee member and co-chair of the 2013 GFA spring fundraiser Country Fair.
Jennifer Vanderpool joined the board in 2015. She is a district manager for Starbucks, and she brings more than 30 years of business and leadership experience to the board. Jennifer is a former member of the Gooden Family Association executive committee. Her son Parker graduated from Gooden in 2012 and St. Francis High School in 2016.
Trustee Emeriti
Reid Allen joined the board in 1976 and serves as a Trustee Emeritus. He is past president of Pasadena Kiwanis Club, YMCA, and Quarterback Club. He has also served on the boards of Flintridge Preparatory School and the Pasadena Salvation Army. He is past governor of the California-Nevada-Hawaii District of Kiwanis International and for 76 years he has been a member of Church of Our Saviour (Episcopal), where he also served on the vestry. Reid enjoys continued work with Gooden, "a precious educational institution guided by a dedicated administration and a devoted teaching staff."
Tom Janzen joined the board in 2005. An attorney for more than 30 years, he is a partner in the firm Schwartz & Janzen LLP representing design professionals, contractors, and owners in the construction industry. He and his wife Kari, a former president of the Gooden Family Association (GFA), live in Pasadena and have raised three daughters, all of whom graduated from Gooden and Alverno High School. His daughters' college experiences include attendance at the University of Oregon. Tom sits on several boards, including the University of Oregon College of Arts and Sciences advisory board, which he chairs. He is also a member of the University of Oregon President's Campaign Cabinet supporting the endowment and capital campaign. He previously served the City of Sierra Madre with seats on its planning commission, the former community services commission, and the ad hoc committee on finance. ​
Nadilee Russell, Past Chair. Nadilee joined the board in 2004 and became board chair in 2015. She is a senior vice president and managing director at East West Bank, and she brings 30 years of financial and strategic leadership experience to the board. Her two sons David and Cameron graduated from Gooden (class of 2007 and class of 2013). David graduated from St. Francis High School and went on to attend University of California, Davis. Cameron is currently attending San Francisco State University.
Kim Snyder joined the board in 2016. He is the president of the southwest region for Prologis, a global leader in industrial logistics real estate. Kim brings to the board more than 30 years of experience in real estate development and finance. Kim also serves on the advisory boards at the Peter Drucker School of the Claremont University Graduate School and for the NAIOP, a commercial real estate development association, as well as being a board member of the Inland Empire Logistics Council and FibraPL based in Mexico City. He and his wife, Meghan, have had three children graduate from The Gooden School; a son who graduated from St. Francis High School and now attends the University of San Diego and a daughter who graduated from Mayfield Senior School and Chapman University, and a daughter who graduated in The Gooden School class of 2019.