STEAMing Up With Innovation and Discovery
May 19, 2022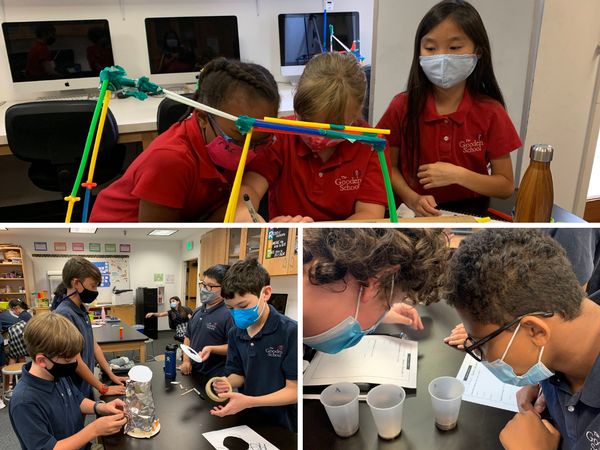 Having been a teacher for several years, lesson planning is sometimes time-consuming yet, as an educator, one has to keep students engaged through curiosity, exploration, and discovery. I believe a teacher must be excited about teaching a topic - especially if it's about making real-life connections to knowledge and learning. I have spent hours searching through books, curricula, teacher resources, websites, and lesson plans for my students. My main objective has always been to have fun, innovative, hands-on, and challenging activities for my students.

STEAM Education is an approach to learning that uses Science, Technology, Engineering, Arts, and Math. STEAM is enriching, skill-building, and makes real-life career-infused connections. It is all about project-based learning, that is innovative and student-centered. Lessons involve addressing a dynamic question with problem-solving and critical thinking skills collaboratively, then brainstorming, planning, designing, building, and testing, ending with a presentation and reflection.

Project-based learning provides an opportunity for students to interact, share, think, plan, create, and present. Students get inspired, and motivated and take pride and ownership of their creativity, imagination, and solutions. STEAM projects are all about, "learning by doing" which has allowed me to learn and grow with my students. Students are consistently inspiring me with their outstanding skills and creativity. It is a beautiful feeling to witness a young scientist, a creative problem solver, a designer, or an engineer in the making! It's been an amazing journey of exploration and discovery indeed! STEAM activities also bring about and highlight a student's potential in different areas of interest, for example in technology or building or app designing, or forensics. They get to learn about their own strengths and areas of improvement. So, at an early age, they learn about their future subjects of interest in high school or college.

Many teachers use projects as a means of student assessment, but a project is not the same as project-based learning. A project is typically an application phase at the end of a learned lesson, whereas project-based learning IS THE LEARNING and an ongoing process. In the STEAM Lab at The Gooden School, students built ecosystem dioramas, hurricane-proof houses, space debris robots, houses on Mars, bridges for animals, and straw roller coasters. They learned to create with scratch programming, and coding languages and experimented with circuits using biodegradable items and testing acidity levels in various liquids. These activities encourage students to develop problem-solving skills while growing their public speaking and presentation abilities.

Watching my students grow in confidence is incredibly satisfying. It's a joy to watch them build their creativity and leadership skills. Students are introduced to STEAM/STEM careers in the real world, and they are inspired to make connections to explore their passions. Project-based learning teaches students accountability and time management, builds confidence, and teaches them to take creative risks. I am thrilled to be able to share as a co-curricular teacher and it brings me the joy of teaching and developing natural curiosity in students. I encourage you to try some STEAM/STEM challenges at home with your families, so you can see their creativity flourish too! It's all about taking risks, making mistakes, and learning. There's nothing right or wrong until you experiment and explore!
Alka Kumar joined Gooden in 2021 as the STEAM (Science, Technology, Engineering, Art, and Math) Teacher. Ms. Kumar is a nature lover and a compassionate science educator who believes that every student has their own special gifts.
Holding a master's degree in life science and microbiology, she's worked as a STEM teacher at Sierra Madre Elementary and through her own Curious Kids Science enrichment program, offering fun, hands-on science/STEAM classes/camps and workshops for K-12 school students at Barnhart, the Los Angeles Arboretum and Pasadena Rosebud Academy. Dedicated to inspiring young girls who have a passion, talent, and aptitude in the STEAM field, Ms. Kumar has also brought her love of teaching to Project Scientist Academy as a STEAM coach.
She also teaches as an independent instructor with the Institute for Educational Advancement. She has taught classes in environmental defense, kitchen chemistry, microbiology, botany, general science, and special sessions for gifted students. A nature lover at heart, she enjoys visiting national parks in her leisure time with her family and her energetic border collie, Nyra.