Cultivating Gratitude in the Classroom
November 20, 2020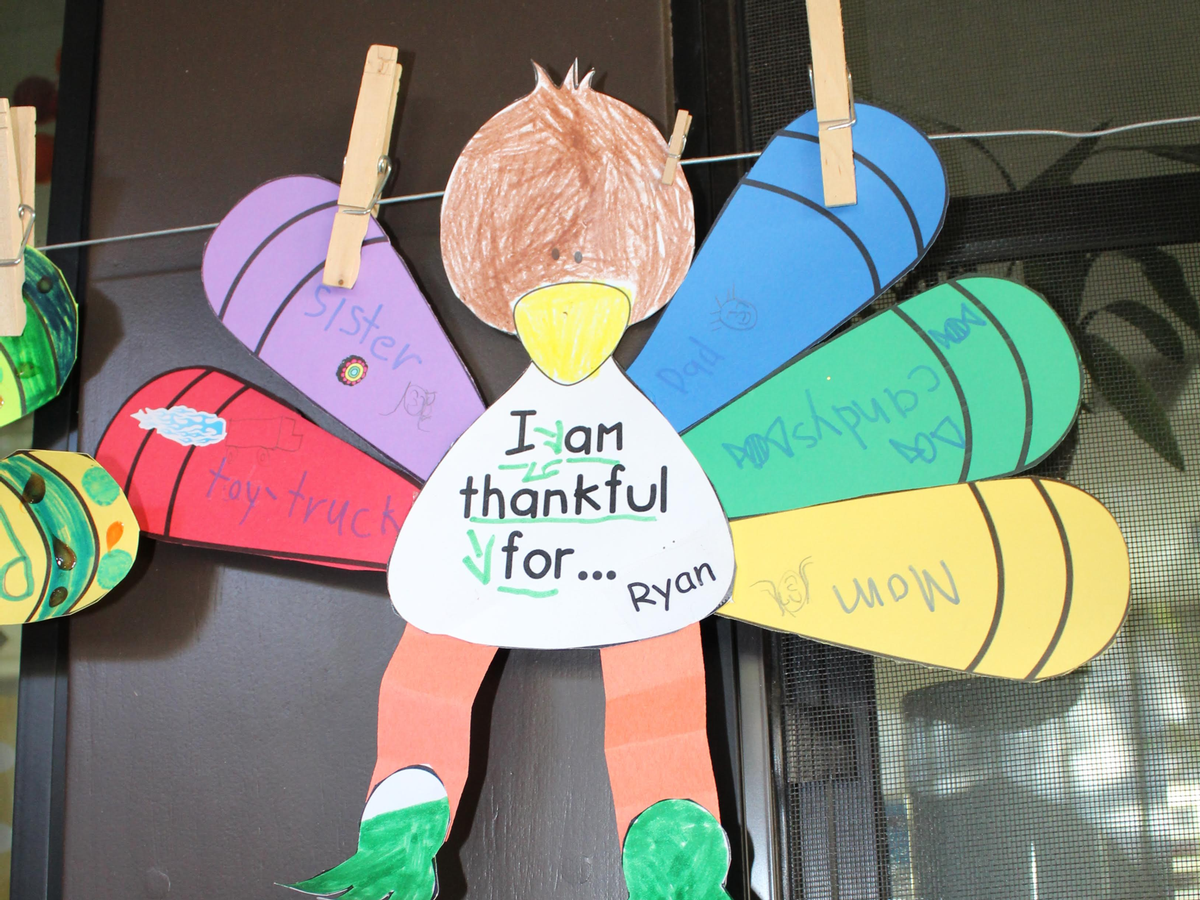 Since moving to California from the UK, Thanksgiving has become my favorite holiday celebration. Of course, I miss eating haggis at Burns' Supper, watching Morris dancing on May Day, and warming my hands by the bonfire on Guy Fawkes Night, but nothing beats gathering with family and friends for a Thanksgiving dinner.
Over the last four years, as the Halloween sugar-high comes to an end and the mayhem of Christmas shopping begins to loom, I've reveled in the momentary pause that the fourth Thursday in November provides. Free from gimmicks and distractions, I've appreciated the time to take stock and give thanks for everything in my life that I hold dear.
At Gooden, each year we celebrate Thanksgiving with our Grandparents' and Special Friends' day. Here, the children traditionally welcome family members into the school for a chapel service, musical performance, and classroom visit. I love listening to the heartwarming conversations sparked between the students and their guests, as they discuss the various things they are grateful for. I always end the day with a full heart and a reminder of just how powerful gratitude can be.
In the classroom, I've found that cultivating gratitude is so important for promoting a positive environment where children feel valued and respected. Since children learn from what they see us do as adults, my starting point is always to model expressing gratitude effectively and frequently. To do this, I trade praise for gratitude when giving feedback to my students by using a restorative practice known as "affective statements."
The idea behind affective statements is for teachers to connect students with how their behavior is impacting others. For example, during group work, I might say, "Thank you for taking turns. That makes me feel happy because I really value cooperation." By expressing gratitude in this way, students understand the positive impact a specific action has had, and they feel appreciated for doing it.
Meanwhile, dishing out praise like, "good job" doesn't provide any information that is useful to learning. Children don't know the exact behavior that is "good", so it can cause confusion. Indeed, when done too much or in over-inflated ways, praise can lower self-esteem rather than promote feelings of appreciation.
By trading praise for gratitude through affective statements, I've found that gratitude remains a key part of the classroom climate well beyond the Thanksgiving period. Over time, children absorb the language and manner of expressing gratitude effectively and begin to build it into their own daily lives.
Each year in the UK, as the holiday season starts, a famous TV ad by the Dogs Trust reminds the nation that, "A dog is for life, not just for Christmas." In a similar vein, as the smell of roast turkey draws tantalizingly closer, I will endeavor to remember that gratitude is for life, not just for Thanksgiving.
Matthew Foster is the fifth-grade teacher and director of strategic initiatives at Gooden. Educated in the United Kingdom, he received his bachelor's degree from the University of Durham, and his teaching credentials and a master's in education from University College London. Prior to coming to Gooden, Mr. Foster taught in public schools in underserved areas of London and Oxford, where he developed an awareness of the importance of social and emotional learning and a passion for promoting restorative practices.