Innovative Learning
March 14, 2019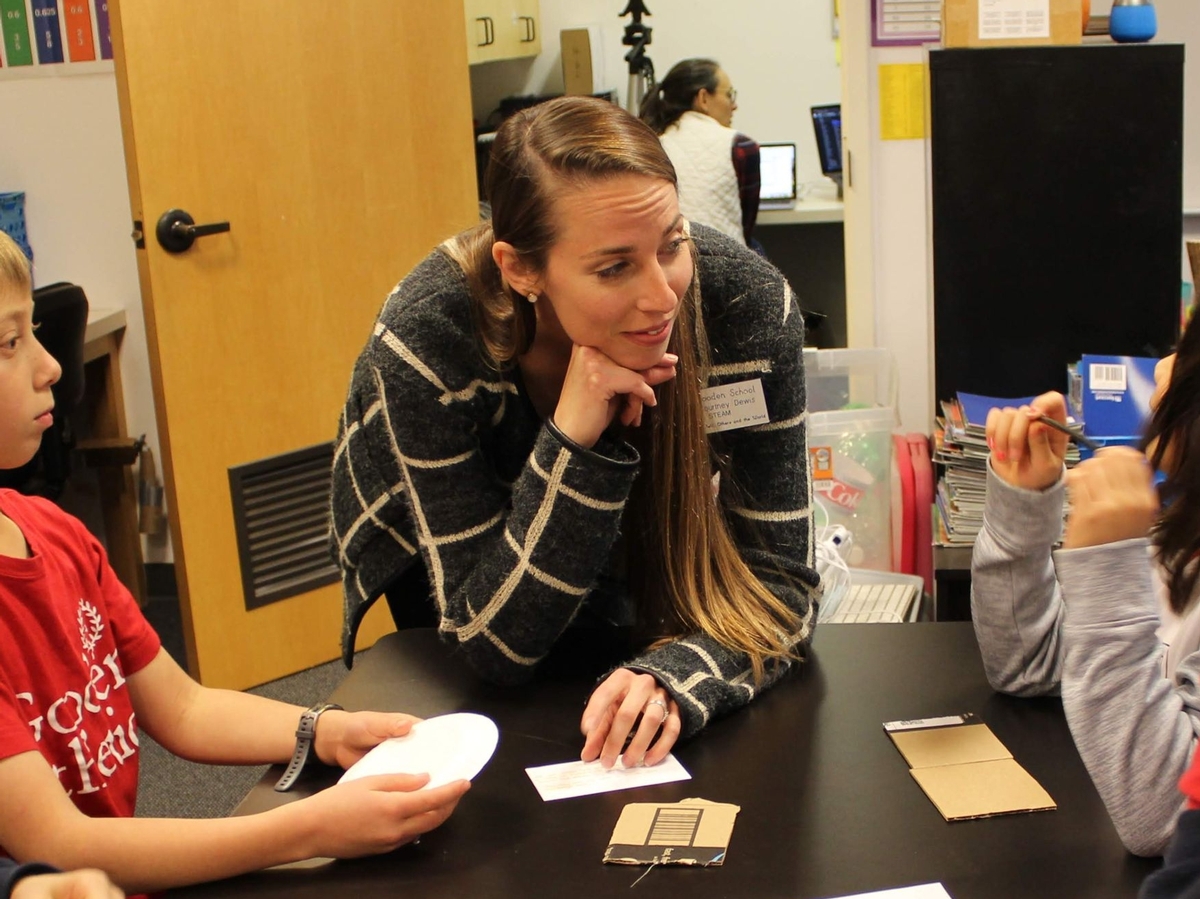 The Gooden School's Instagram page recently featured a cluster of photos that showed second-grade students standing proudly next to one of their most recent creations in Science Technology Engineering Arts and Math (STEAM): games. This segment of class is part of our recent theme called "STEAM Challenge," where each week students are presented with a bag or box full of random items and they have to solve some sort of problem in order to create something fun that possesses a utility for the user.
I have to be honest, when I sat down to come up with a list of things to include in the week's challenge, I was stacking the deck. Students were presented with a cardboard box, 3x5 cards, and a marble. I fully anticipated students connecting the dots and playing into my hand to build a marble maze in a box. So, 15 minutes into class, as I wandered around the room I found that not a single group was attempting to build a marble maze. I admit that I was surprised and a bit scared that my lesson plan would crash and burn. What happened next can only be described as what warms the soul for me as a teacher.
Lyla peeled away from her group and was slowly making her way around the room, looking at bins full of items for other projects. She turned to me while picking up a piece of a cut two-liter bottle, "Can we use this?"
"Sure!" I said. Other students in the room gave that unforgettable look of "we're allowed to use other things?!" and before I knew it, Ms. Zoe and I were giving away string, bits of plastic, bottle caps, pom poms, cardstock. I whipped out the hot glue gun, and we had a room full of students building something entirely different than what I had planned.
The education overlords love to crank out new buzzwords that have a way of informing entire programs at progressive schools. They would call this kind of experience "Innovative Learning," which is a way of describing the things that happen when children are allowed to explore things that are normally off-menu in conventional settings. You might have already noticed "Innovation Labs" popping up at schools. They go right into the same category of Maker-Spaces, and in our experience here at Gooden, STEAM Labs.
In my experience teaching STEAM and math, and even middle school Faith and Ethics, lesson plans aren't by their nature innovative; it's the teachers themselves in the act of letting go of plans that create the most honest and intense innovative learning experiences. The ability to say, "Oh well," and scrap a plan on the fly and indulge the imagination of a room full of eager eyes is the best way to see students traverse the path of innovation.
The ability to just, for lack of better words, go with it, is something I have learned is a staple part of instruction at Gooden. When I started teaching technology at Gooden in 2016, there were no remnants of plans or hints from a server full of curriculum maps of what I ought to teach. I walked across the hall to my mentor teacher at the time, Mrs. Tortell, and in a half-panicked voice asked, "Where do I start?" Her response to me was so simple: ask the students. Truth be told, they are the innovators; we just facilitate.
Courtney Dewis has been proud to call the Gooden School home for five years, teaching Faith and Ethics in the Middle School, mathematics in the sixth grade, and pioneering the schoolwide interdisciplinary STEAM program (Science Technology Engineering Art & Math). Now, as dean of student life, she has set up the school's first advisory program, which aims to guide students to identify and achieve goals, and to think about who they are and who they want to become. Courtney grew up locally, went through the South Pasadena public school system, and played soccer for the Santa Anita Soccer Club. She chose Dickinson College for its archaeology department but quickly found that the religion department better addressed her own questions about the human condition, group social behavior, and phenomenology. She is the only defensive player ("center back") recognized in the Dickinson Hall of Fame for record goal assists. Courtney holds her MA in philosophy, religion, and theology from Claremont Graduate University, where she wrote her thesis on David Hume's Dialogues Concerning Natural Religion (on the issue of authorial representation and intent in philosophical fiction) and met her husband in a seminar on the pre-Socratics. In the classroom, Courtney loves the way technology, studied in the context of STEAM, provokes students to think beyond their immediate use of it and to reflect on the deeper needs and hopes of humanity.