Philanthropy and Community At Gooden
October 15, 2020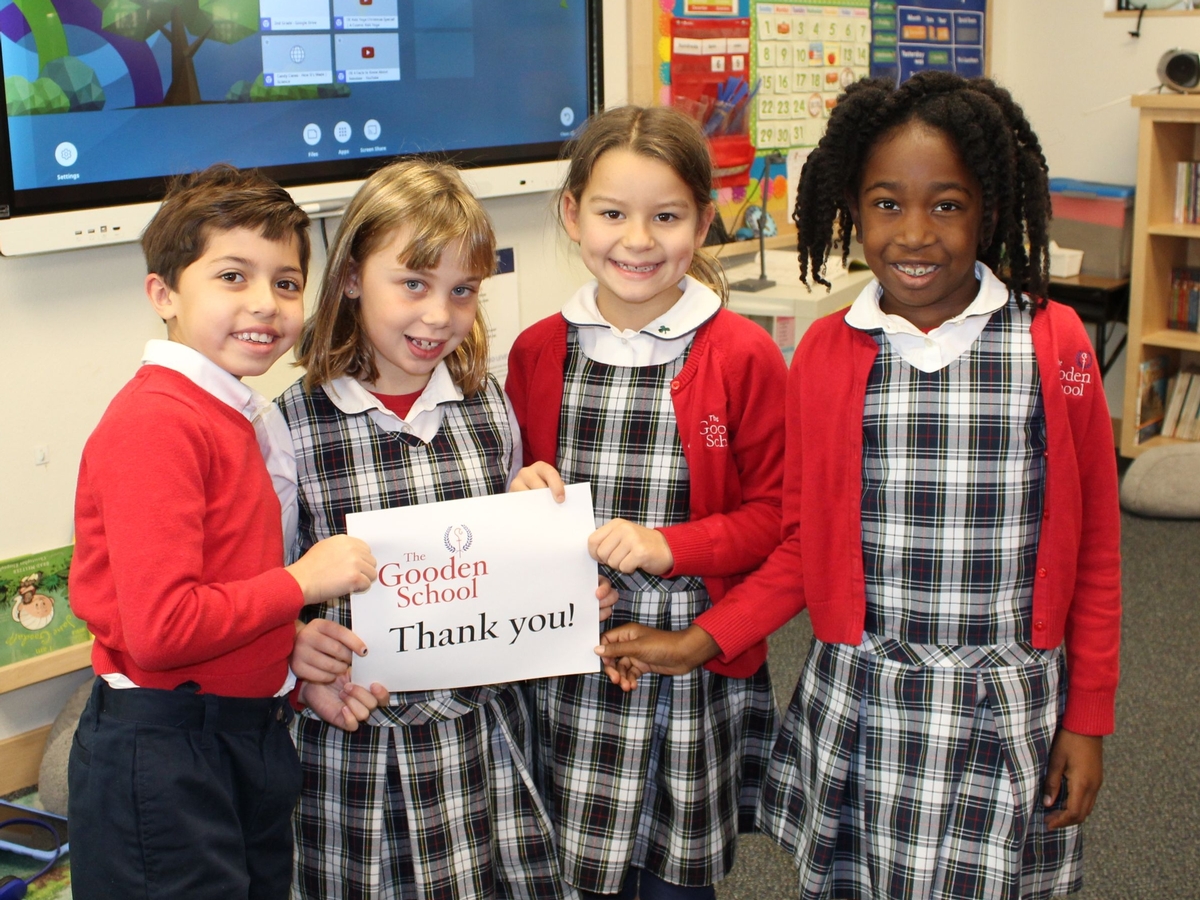 Choosing a school for your child can be a daunting task and even more so at this time. Families are asking: what are the teacher/student ratios? What does each child learn every day? Will be my child be challenged and will they grow? One of the most crucial questions that often is overlooked: what is the culture of giving at this school? Does the community share in the life of the school? Fortunately, at Gooden the answer is yes!
During this pandemic so much of what you might have seen and experienced in person is now either virtual or on hold. However, there is one window into The Gooden School community that's as open as ever: philanthropy.
When the school was founded, it was a gift from one of the school's founders that allowed Gooden to take advantage of this beautiful location. It was many gifts that have allowed the school to construct the buildings that where Gooden's teachers are currently teaching students, even at a distance. It is the gift of parent volunteering that helps support so many of the programs at Gooden. Philanthropy at independent schools is an integral part of what allows them to grow and to flourish, even in this time of being apart.
One year ago—long before anyone could have guessed what 2020 would bring—Gooden School parents, alumni, staff, trustees and community members were making gifts, the full impact of which lay some months in the future. None could have known then how crucial the giving would be to keeping learning going when nearly all else ground to a halt.

Supporting distance learning during a wildfire-scorched, pandemic year may be the most dynamically challenging assignment for The Gooden School in its history. But at each crucial moment, the teachers and staff said, "We've got this. And we've got you."

Their ability to adjust every aspect of how they teach has been thanks in no small part to donors, parents, grandparents, alumni families, faculty, staff, and trustees, having also said, "We've got this. And we've got you." Those gifts ensured that Gooden had the resources it needed to be ready at a moment's notice for online or hybrid instruction, while supporting each family's individual needs.

Every school has a different culture of philanthropy. At Gooden, it envelops our whole community, allowing us to make an impact in the lives of Gooden students. This giving represents helps the school bridge the difference between competence and excellence, between vulnerability and resilience.

Since the spring, all of us have been navigating massive challenges at work and home. We are deeply grateful that last year's donors showed up for Gooden students. As you read this, The Gooden School community is already showing up for next year's children.
Jo-Anne Woolner is the head of school at Gooden. She has served the school as interim head of school, director of the Middle School, registrar, and teacher of English, social studies, and Latin after originally joining the school community as a parent of four Gooden students. She received her Bachelor of Arts/Science in English from the University of Calgary (Canada) and Master of Arts in medieval history and languages and Master of Philosophy in Catholic Church history from New York University. In addition to teaching at NYU before moving to California, she has been a presenter at regional independent school conferences and has been a volunteer and board member at several community-based nonprofits in Pasadena.
Mrs. Woolner would like to acknowledge the contributions of parent volunteers to this article.