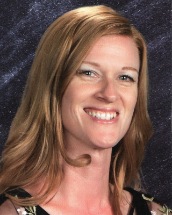 Emily Horn
Fifth Grade Teacher
Phone: 626-355-2410 x22
Mrs. Horn joined Gooden in 2021. She holds an undergraduate degree in art education from California State University, Long Beach, and a multiple subject teaching credential as well as a master's degree in teaching and learning from Point Loma Nazarene University.
She has been teaching since 2007 with experience in both independent and public school settings throughout the San Gabriel Valley. She continues to make professional development a priority and has a personal goal to maintain the best teaching practices in the classroom. One of her passions is watching kids succeed.
When Mrs. Horn is not teaching in the classroom, she is probably on some sort of adventure with her family. It might be a local backyard bug hunt with her daughter, tending her iris garden, riding horses, whale watching, or a camping trip along the California coast. On occasion, she can be found helping her husband run his family-owned vintage shop in Monterey Park. Yoga sessions, reading a good book, feeding hummingbirds, and watching I Love Lucy are some of her favorite activities to do in solitude.